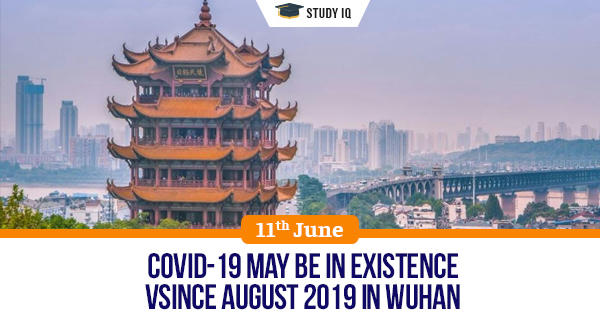 COVID-19 may be in existence since August 2019 in Wuhan
Date: 11 June 2020
Tags: Miscellaneous
Issue
A new study carried out by researchers from the Harvard Medical School using satellite imagery of parking lots and disease-related search engine queries has discovered the possibility that coronavirus may have been circulating in Wuhan since August last year.
Background
The authors of the study say that they observed an upward trend in hospital traffic and search volume for disease-related terms beginning in late summer and early fall of 2019, implying that the virus may have already been circulating before the identification of the Huanan market cluster in Wuhan late November, early December.
Details
This hypothesis is supported by emerging epidemiologic and phylogenetic evidence indicating that the virus emerged in southern China and may have already spread internationally, and adapted for efficient human transmission by the time it was detected in late December.

The study say that while queries for the respiratory symptom "cough" show seasonal fluctuations that coincide with yearly influenza seasons, the search for the term "diarrhea", which is a more COVID-19 specific symptom showed an association with the current epidemic only.

As per their analysis, between 2018 and 2020 there was a general upward trend of increased hospital occupancy and a "steep increase" in volume starting August 2019.

Further, while individual hospitals have days of high relative volume in both Fall and Winter 2019, between September and October 2019, five of the six hospitals show their highest relative daily volume, which coincides with elevated search queries for the term "diarrhea" and "cough".

The researchers are saying that while it cannot be confirmed if the increase in the volume of hospital traffic and symptom search data in Wuhan was directly related to the coronavirus, they say that there is some evidence to believe that the disease might have been spreading before its identification at the Huanan seafood market.

China has maintained that there was no delay or cover-up in the Chinese government's response to the outbreak of the disease and has rebutted all other accusations suggesting the virus may have originated from the lab.

There is a theory that the most trafficked mammals in the world, pangolins, maybe an intermediate host for transmission of the virus between bats and humans, however, research on this is still emerging.