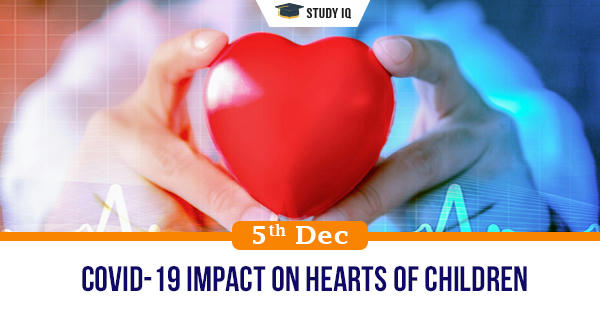 Covid-19 impact on hearts of children
Date: 05 December 2020
Tags: Miscellaneous
Issue
According to a study, Covid-19 can damage children's hearts to an extent that it may lead to Multisystem Inflammatory Syndrome in children (MIS-C).
Details
The authors have cautioned that some children may also need lifelong monitoring and interventions due to the impact.

Case studies also showed MIS-C can strike even healthy children without warning three or four weeks after asymptomatic infections.

It can be lethal because it affects multiple organ systems including the heart and the lungs, the gastrointestinal system or the neurologic system.

The amount of inflammation in MIS-C surpasses two similar paediatric conditions, Kawasaki disease and toxic shock syndrome.
Kawasaki disease
Kawasaki disease (KD), or mucocutaneous lymph node syndrome, is an illness that causes inflammation in arteries, veins, and capillaries.

It also affects lymph nodes and causes symptoms in your nose, mouth, and throat. It's the most common cause of heart disease in children.

It's most common in infants and young children. Initial treatments include aspirin and intravenous immunoglobulin therapy given in a medical facility.
Toxic Shock Syndrome
It is a rare, life-threatening complication of certain bacterial infections.
Risk factors include recent surgery, open wounds and the use of superabsorbent tampons.
A high fever, low blood pressure, vomiting and rash are some symptoms.