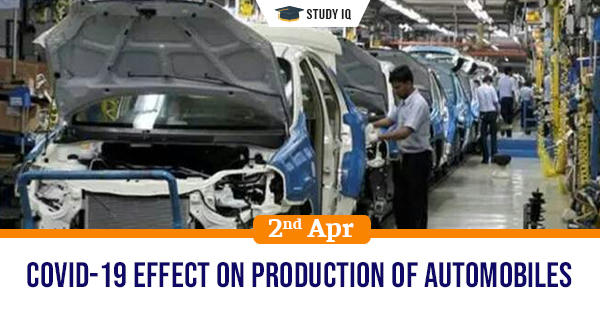 Covid-19 effect on production of automobiles
Date: 02 April 2021
Tags: Miscellaneous
Issue
Several automakers have requested potential customers to bear with a short waiting time for vehicle delivery citing production delays.
Background
Covid-19 proved to be a disaster for many industries including automobiles when the forced lockdown affected supply chain.
Details
Waiting time for cars have become longest post-pandemic due to non-availability of critical parts such as semiconductor chips.

Indian as well as global manufacturers have been forced to reduce their speed of production due to non-availability of these critical materials.

Integrated circuits (IC) chip are commonly used component in cars, electronic goods, medical devices, and smart appliances.

IC is made up of resistors, transistors, capacitors, which are placed on a single chip to perform a single or multiple functions.
Reason for shortages
As the globe went towards lockdown, people started buying more electronic items such as computers, phones, video games etc to tide over boredom as well as work.

As factories were shut, producers cut down on semiconductor chip manufacturing. This upset the balance between demand and supply, causing the current problems.

The renewed demand has forced companies to adjust production and supplies to critical sectors such as automobiles.

Cars makers usually do not have stock of chips and rely on dynamic supply chain based on demand from customers.

With the demand for cars reduced during pandemic, automakers reduced their orders, forcing chipmakers to produce chips for other purposes.