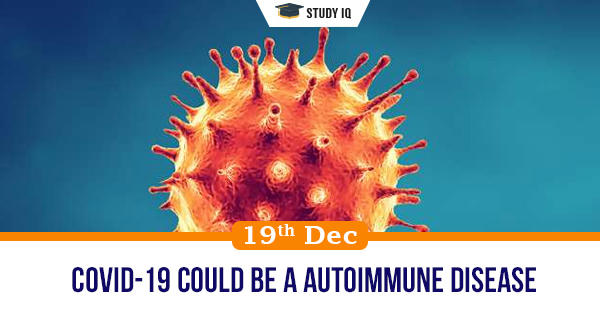 Covid-19 could be a autoimmune disease
Date: 19 December 2020
Tags: Miscellaneous
Issue
Researchers have discovered new evidence to suggest that in some people with Covid-19, the body produces auto-antibodies, that attacks own immune system and organs.
Background
Covid-19 has proved to be a big puzzle with its varying effects. In some people it occurs as a mild symptom and in others it turns fatal and serious.
Details
The researchers found that people with severe COVID had auto-antibodies that latched onto crucial proteins involved in recognising, alerting and clearing cells infected with the coronavirus.

These proteins include cytokines and chemokines – important messengers in the immune system. This interfered with the normal immune system function, blocking antiviral defences, potentially making the disease more severe.

Later studies discovered that people with severe COVID can also develop auto-antibodies to interferons, immune proteins that play a major role in fighting viral infections.

The presence of these auto-antibodies could make the disease worse, suggesting that these auto-antibodies could contribute to the severity of COVID in humans.

However, the researchers didn't find any COVID-specific auto-antibodies that could be used to distinguish severely ill COVID patients.
Auto-immune diseases
An autoimmune disease is a condition in which your immune system mistakenly attacks your body cells and organs.

For many years, auto-antibodies have been known to be involved in autoimmune diseases, such as rheumatoid arthritis and lupus.

It is not known why some people develop these antibodies, but it is likely to be a combination of genetics and environment. Viral infections have also been linked to the onset of some autoimmune diseases.
With unusual autoimmune diseases, patients may suffer years before getting a proper diagnosis. Most of these diseases have no cure. Some require lifelong treatment to ease symptoms.