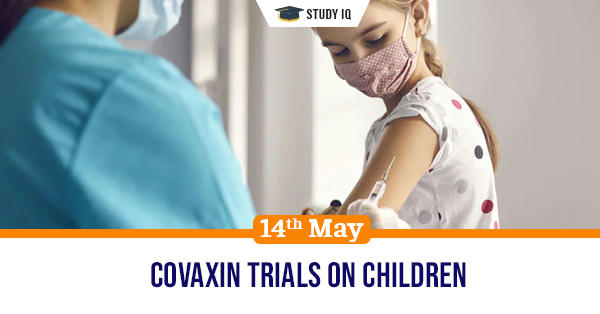 Covaxin trials on children
Date: 14 May 2021
Tags: Miscellaneous
Issue
Bharat Biotech has been given permission to conduct clinical trials of Covaxin on children below the age of 18 years.
Background
Indian vaccines have been majorly focusing on adults above 18 years. Till now there is no clear studies conducted on those below 18 years.
Details
Covaxin is an indigenous anti-Covid vaccine that has been developed by Hyderabad based Bharat Biotech company in collaboration with Indian Council of Medical Research (ICMR).

The product makes use of inactivated SARS-CoV-2 virus to provide immune response in human body after encountering a virus.
New development
The Drugs Controller General of India (DCGI) has given permission for Bharat Biotech to conduct phase 2 and 3 trials for individuals between 2 years and 18 years of age.

The trials will include aspects such as ability of the body to generate immune response as well as adverse reactions that may occur.

The new trials will be of two doses. These doses will be administered 28 days apart through the intramuscular route.
Clinical trial
Clinical trial is a research phase in which the efficacy of a medicine is tested on healthy volunteers to check for effectiveness as well as side effects.