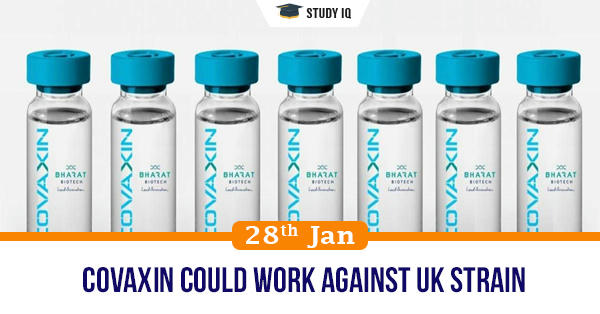 Covaxin could work against UK strain
Date: 28 January 2021
Tags: Miscellaneous
Issue
Bharat Biotech has released potentially promising information related to its Covid-19 vaccine's ability to protect people against a specific mutation of the virus.
Background
The Covaxin was allowed for emergency use in India after there were indications of its efficacy on UK strain of virus.
Details
Bharat Biotech conducted a test of its vaccine, Covaxin, against the UK strain of the virus. This "plaque reduction neutralization" test (PRNT50) involved collecting the serum (protein-rich liquid separated from blood after it is clotted) of 26 people who received the vaccine.

The sera was then tested against the UK variant of the virus as well as a heterologous strain of the virus that Covaxin was previously tested against.

The study highlighted comparable neutralization activity of vaccinated individual's sera against variant as well as heterologous SARS-CoV-2 strains.

Importantly, sera from the vaccine recipients could neutralise the UK-variant strains discounting the uncertainty around potential escape," stated the pre-print findings.
Significance of findings
India has seen a rising number of cases of the UK strain. The UK strain is not only more spreads more quickly than the more common strain, but there has been some evidence to suggest that this variant was associated with a higher degree of mortality, making it more deadly.

The UK strain was one of the main reasons that Bharat Biotech received restricted emergency approval in India despite Covaxin not having completed enough of its large-scale human trials to show even interim information on its efficacy.
Issues associated
The findings have not been peer reviewed yet. The data collected from 26 people looks promising, but there is no clarity on the vaccine's efficacy yet.

The findings show the vaccine's ability to protect against the UK strain only. At the same time, there are various other mutant strains of the virus that pose a threat to vaccination programmes around the world.