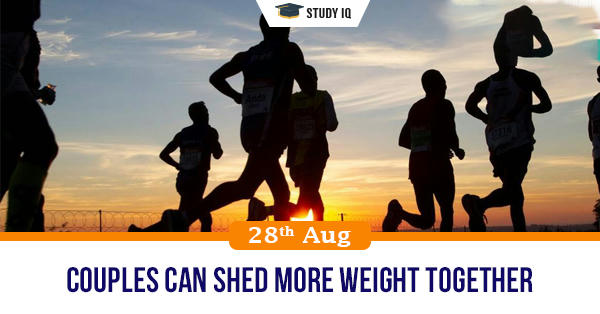 Couples can shed more weight together
Date: 28 August 2020
Tags: Miscellaneous
Issue
A research presented at the European Society of Cardiology (ESC) Congress 2020 says heart attack survivors are more likely to lose weight when their partners join in the effort.
Background
The aim of the study was to find out if partner involvement in lifestyle programmes impacted behaviour changes of those who had suffered heart attacks.
Details
The researchers studied the influence partners had on modifying patients' lifestyle-related risk factors (LRFs) after a heart attack.

In their analysis of 824 individuals, the researchers found that patients whose partners participated in interventions with them were the most successful in reducing weight.

The 824 individuals were randomly assigned two groups–the first group was the intervention group, which meant individuals in this group were involved in lifestyle programmes for weight reduction, physical activity, and smoking cessation depending on their needs and preferences.

The second group called the control group, which received usual care. Usual care involved visits to the cardiologist and cardiac rehabilitation plus up to four visits to a nurse-coordinated programme to encourage healthy living and prevent recurrent heart attacks.

Partners of those in the intervention group could attend the lifestyle programmes for free and were encouraged by nurses to participate.

The study found that patients with a participating partner were more than twice as likely to improve in at least one of the three areas (weight loss, exercise, smoking cessation) within a year.

Further, when the influence of partners was analysed on the three areas separately, patients with a participating partner were most successful in reducing weight compared with patients without a partner.

The relational characteristics were team effort, how much partners had opposing approaches to weight loss and individuals' difficulty in balancing their weight loss goals within their relationship goals.

The study concluded that couples that are trying to lose weight end up straining their relationship if they are using unsuitable strategies to realise their goals.