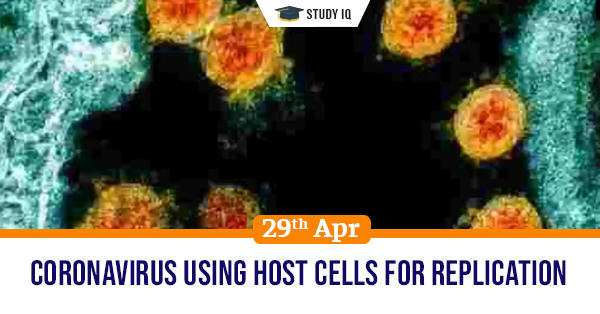 Coronavirus using host cells for replication
Date: 29 April 2021
Tags: Miscellaneous
Issue
Researchers have discovered the mechanism through which SARS virus infects cells and produces viral proteins for replication.
Background
They however say that SARS-CoV (that causes SARS) and SARS-CoV-2 (causing Covid-19) do not use this procedure.
Details
Coronaviruses are the reason for causing cold infections in humans. The SARS viruses were the first ones to cause severe pneumonia in infected people.

Researchers studied the RNA genomes in normal coronaviruses with those of SARS virus and identified a "SARS-unique domain" (SUD) in the latter.

These genomic regions along with their proteins may be the reason for extraordinary pathogenicity of SARS and SARS-CoV-2 coronaviruses.

The SUD proteins present in these two viruses have the ability to interact with a human protein called Paip-1, which is one of the first steps of protein synthesis.

SUD binds to the ribosomes along with Paip-1 that enhances production of proteins in both the host cells and the virus.

A viral protein called Nsp1selectively destroys the messenger RNA molecules in cells infected with SARS and SARS-CoV-2 viruses.

This destruction causes infected cells to produce viral proteins instead of normal proteins, helping in replication process.

Researchers used X-ray crystallography to determine the structure of the complex protein formed by combination of SUD and Paip-1.
Significance
Such experiments help to understand key structure of virus that helps it to change key functions of the cell for their own benefit.