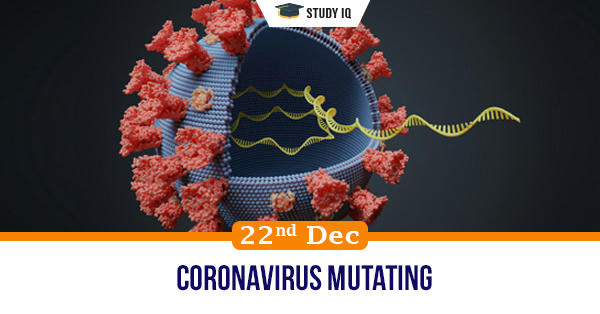 Coronavirus mutating
Date: 22 December 2020
Tags: Miscellaneous
Issue
Officials in Britain have sounded an urgent alarm about existence of a highly contagious new variant of the coronavirus .
Background
European countries have begun closing their borders to travellers from the United Kingdom, hoping to shut out the new iteration of the pathogen.
Details
In South Africa, a similar version of the virus has emerged, shares one of the mutations seen in the British variant.

That virus has been found in up to 90% of the samples whose genetic sequences have been analyzed in South Africa since mid-November.

As it becomes more difficult for the pathogen to survive, researchers also expect the virus to gain useful mutations enabling it to spread more easily or to escape detection by the immune system.

The British variant has about 20 mutations, including several that affect how the virus locks onto human cells and infects them. These mutations may allow the variant to replicate and transmit more efficiently.

The British announcement also prompted concern that the virus might evolve to become resistant to the vaccines just now rolling out.

The worries are focused on a pair of alterations in the viral genetic code that may make it less vulnerable to certain antibodies.

Several recent papers have shown that the coronavirus can evolve to avoid recognition by a single monoclonal antibody, a mixture of two antibodies or even convalescent serum given to a specific individual.

Immunizing about 60% of a population within about a year and keeping the number of cases down while that happens will help minimize the chances of the virus mutating significantly.