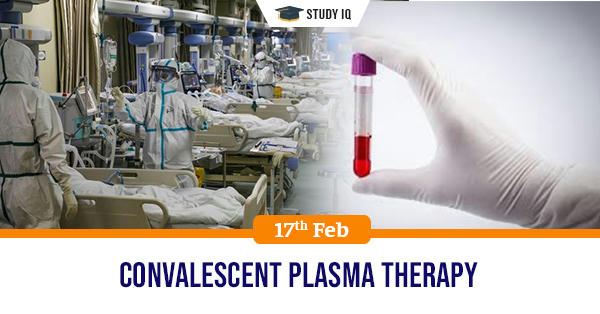 Convalescent plasma therapy
Date: 17 February 2020
Tags: Miscellaneous
Issue
A pharmaceutical company in China has turned to plasma taken from people who have recovered from the infection to treat critically ill patients.
Background
Treatment with convalescent plasma is a classical, time-tested method. It has been used against measles, chickenpox, and rabies. In the case of rabies, it is acts as passive immunisation after dog bite and before disease develops.
Details
Convalescent plasma has been listed as a therapeutic method by China's National Health Commission.

People who have recovered from COVID-19 disease would have antibodies against the virus.

Infusing the antibodies to critically ill patients is expected to improve the chances of survival. The plasma that is transfused contains the antibodies.

The company had collected plasma from some recovered patients to prepare therapeutic products including convalescent plasma and immune globulin.

Improvement in clinical symptoms includes key indicators such as blood oxygen saturation and significant reduction in inflammatory indicators.

This is not the first time that plasma from recovered patients has been used to treat people infected with certain viruses for which drugs are not available. When Ebola struck Guinea, Sierra Leone, and Liberia in 2014, the World Health Organization prioritised the evaluation of treatment with convalescent plasma derived from patients who have recovered from the disease.

Best time to give convalescent plasma containing antibodies is before disease develops. In the case of COVID-19, by the time pneumonia is diagnosed it is too late. That is the reason why therapy using convalescent plasma is not popular for other viral diseases.

Antibodies in the plasma bind to the virus and prevent them from entering the cells. But by the time it is given, many cells have already been infected.