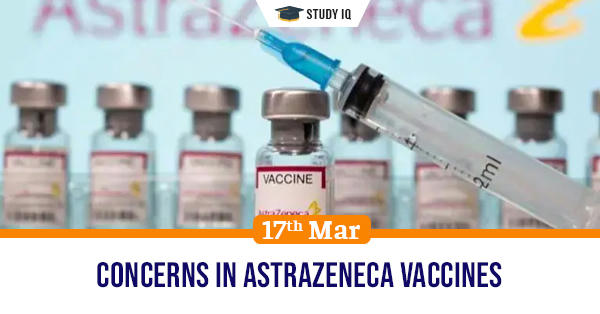 Concerns in AstraZeneca vaccines
Date: 17 March 2021
Tags: Miscellaneous
Issue
The AstraZeneca Covid-19 vaccine has reported some ill effects that included blood clots and abnormal bleeding.
Background
Many recipients of the vaccine in European countries reported abnormal health conditions that put doubts on the safety of the vaccine.
Details
The reports have forced large number of countries to either temporarily or fully suspend the vaccine's use until the cases are investigated.

Most of the countries have said that they were doing so as a precaution until health agencies review the cases.
Problems
The decision to reviews was a series of serious cases in Norway, which were observed among health workers under age 50 who obtained the vaccine.

Most of the sufferers developed clots or bleeding abnormalities and had low platelet counts. Two of them have died from brain haemorrhages.

None of the deaths have been fully studied or analysed to determine whether there is any link to the shots they received.

Blood clots are fairly common in the general population, and authorities think that clots observed in vaccine recipients are most likely coincidental and not related to the vaccination.
Blood clot
A blood clot is a thick, gelatinous structure of blood that can block circulation. Clots can form as a response to injuries and can also be caused by many issues, including cancer and genetic disorders, certain drugs and prolonged sitting or bed rest.