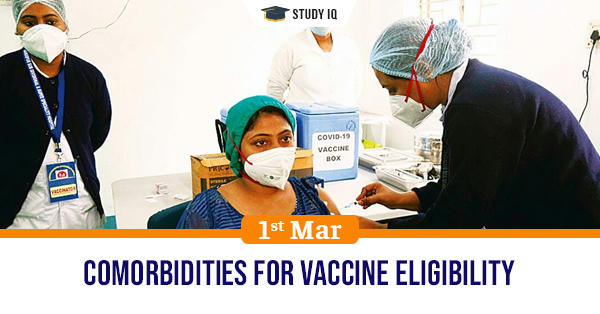 Comorbidities for vaccine eligibility
Date: 01 March 2021
Tags: Miscellaneous
Issue
The union government has said that all citizens above 60 years of age and those over 45 years with comorbidities will be vaccinated in the next phase
Background
Around 27 crore people belong in these categories. The second phase of vaccination will have a system of self-registration.
Details
Anybody who is suffering from serious cardiovascular ailments, diabetes, hypertension, cancer, AIDS and persons with disabilities have been included in the list.

Those who have suffered from heart failure and have been admitted to a hospital in the last one year, as well as those suffering from significant left ventricular systolic dysfunction.

Those who have undergone a post-cardiac transplant or have a left ventricular assist device also qualify.

Those suffering from hypertension or diabetes along with pulmonary artery hypertension, angina, or coronary artery diseases with past history of coronary artery bypass grafting/ percutaneous transluminal coronary angioplasty/ myocardial infarction.

People who have been suffering from diabetes for more than 10 years or have complications induced by diabetes and have a problem of hypertension as well will also be considered.

Individuals suffering from end-stage kidney disorders and are on haemodialysis/ Continuous Ambulatory Peritoneal Dialysis, as well as patients of decompensated cirrhosis are eligible.

People who have undergone kidney, liver or hematopoietic stem cell transplant, or are on the on-wait list for any of these transplants also qualify.

People who have been using oral corticosteroids or immunosuppressant medications for a long time will also be eligible for vaccination.

Those who had any solid cancer detected after July 1 last year or are in cancer therapy now can also get the vaccine.

People with intellectual disabilities, those with disabilities that have high support needs as well as multiple other disabilities, including blindness and deafness have been included.

They will need a certificate from any medical practitioner clearly listing the comorbidities and stating that their condition makes them more vulnerable to Covid-19 infection.