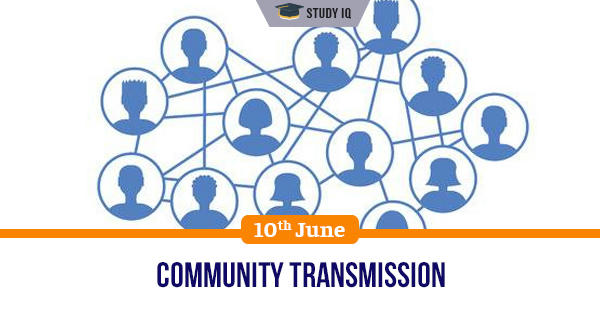 Community transmission
Date: 10 June 2020
Tags: Miscellaneous
Issue
Delhi Health Minister has said that the source of Covid-19 infection in 50 per cent of the cases in the national capital was unknown, adding that it was up to the Centre to declare whether the city had entered the community transmission phase.
Background
There are many cases where sources are not known. But community transmission can be officially used only if the Centre admits it. In epidemiology, community spread happens to be the third stage.
Details
According to the World Health Organisation (WHO), community transmission "is evidenced by the inability to relate confirmed cases through chains of transmission for a large number of cases, or by increasing positive tests through sentinel samples.

In other words, community transmission or spread is said to be taking place when the source of the contagion is not known, i.e. when one is unable to trace an infection back to a carrier who has travelled in an affected area, or through contact with a person who has the disease.

A state of community spread implies that the virus is now circulating in the community, and can infect people with no history — either of travel to or contact with affected people and areas. At this stage, it is theoretically possible for everyone to catch the infection.

The government has so far maintained that there is no community transmission in the country. Some experts, have disagreed with this assertion for months, and said that community transmission of coronavirus is already taking place, and is not getting detected because India is not testing enough people.

In the first stage of a disease that eventually takes the form of a pandemic sweeping the globe, cases are imported into a country in which the infection did not originate.

The second stage is when the virus starts being transmitted locally. Local transmission means that the source of the infection is from within a particular area and the trajectory the virus has taken from one person to the next is clearly established. The third stage is that of community transmission.

There is also a fourth stage in every pandemic. It is when the disease, Covid-19 in this case, becomes endemic in some countries. The Indian government's containment plan takes this possibility into account.