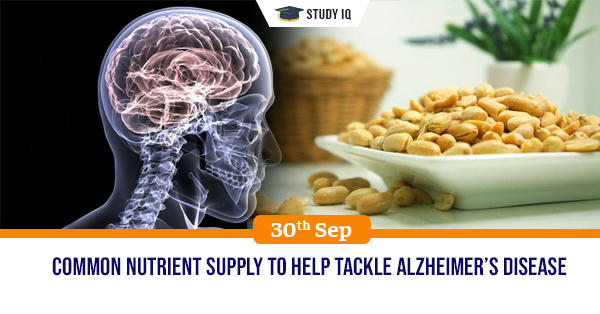 Common nutrient supply to help tackle Alzheimer's disease
Date: 30 September 2019
Tags: Miscellaneous
Issue
In a new study, researchers have revealed that a lifelong dietary regimen of choline holds the potential to prevent Alzheimer's Disease (AD).
Background
Choline is a safe and easy-to-administer nutrient that is naturally present in some foods and can be used as a dietary supplement.
Details
Researchers found transgenerational benefits of Alzheimer's like symptoms in mice whose mothers were supplemented with choline.

The latest work expands this line of research by exploring the effects of choline administered in adulthood rather than in fetal mice.

Due to the higher prevalence of AD in human females, the study sought to establish the findings in female mice.

Results showed that when these mice are given high choline in their diet throughout life, they exhibit improvements in spatial memory, compared with those receiving a normal choline regimen.

Choline acts to protect the brain from Alzheimer's disease in at least two ways:
First, choline blocks the production of amyloid-beta plaques. Amyloid-beta plaques are the hallmark pathology observed in Alzheimer's disease.
Secondly, choline supplementation reduces the activation of microglia. Over-activation of microglia causes brain inflammation and can eventually lead to neuronal death which leads to reduced neural function.
Alzheimer's disease
A progressive disease that destroys memory and other important mental functions

Brain cell connections and the cells themselves degenerate and die, eventually destroying memory and other important mental functions.

Memory loss and confusion are the main symptoms.

Women are at a particular increased risk of developing Alzheimer's disease.

In its early stages, memory loss is mild, but with late-stage Alzheimer's, individuals lose the ability to carry on a conversation and respond to their environment.

On average, a person with Alzheimer's lives four to eight years after diagnosis, but can live as long as 20 years, depending on other factors.

No cure exists, but medication and management strategies may temporarily improve symptoms.