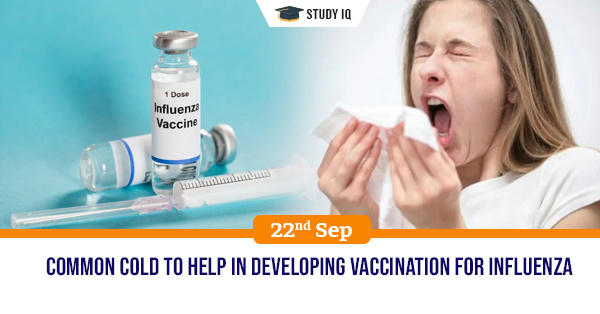 Common cold to help in developing vaccination for influenza
Date: 22 September 2019
Tags: Miscellaneous
Issue
The Department of Biotechnology (DBT) is close to finalising three projects worth ?135 crore, involving Indian and European scientists, to develop new influenza vaccines.
Background
The project makes use of Controlled Human Infection Model (CHIM) where volunteers who take part in trials will be infected with infectious viruses or bacteria under expert supervision.
Details
This approach will speed up the process whereby scientists can quantify whether potential vaccine candidates can be effective in people and identify the factors that determine why some vaccinated people fall sick and others do not.

The risk in such trials is that intentionally infecting healthy people with an active virus and causing them to be sick is against medical ethics. It also involves putting human lives in danger.

India is likely to develop CHIM protocols to study bacterial or enteric viruses (residing in the intestine) such as cholera or typhoid.

If successful, these would serve to create back-ups to the existing cholera and typhoid vaccines. Experience with CHIM could help to create clinical investigators trained in vaccine development.
Traditional vaccination
Vaccines traditionally are made of a weakened form of a disease-causing virus or bacteria and injected into the body to coax the immune system into making antibodies that create immunity against future infection.
Vaccine development has shown that frequently vaccines that work in small groups of people may not always work in large populations or those that are effective in one country may not be in another. CHIM models help vaccine-makers decide whether they should go ahead with investing in expensive trials.