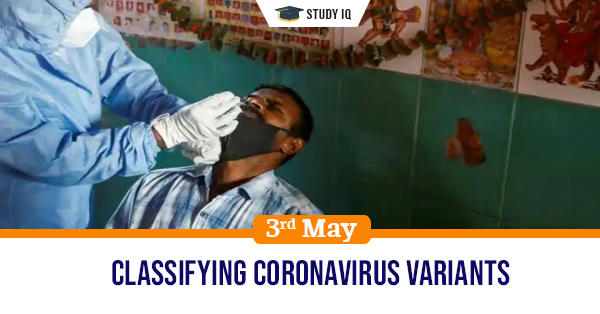 Classifying Coronavirus variants
Date: 03 May 2021
Tags: Miscellaneous
Issue
UK health authorities have started the process of classifying SARS-CoV-2 virus including the Indian variant of B.1.617.
Background
As the pandemic is intensifying, various new strains of virus have been discovered that include the UK, Brazil, South African and Indian variant.
Details
Variants in virus are caused by mutations that differentiate them from others. These mutations sometimes make it easy for them to survive in harsh conditions.

The circulation levels of the virus is higher that has allowed it to infect larger number of people and also mutate faster due to replications.

E484Q and L452R are the two mutated varieties of the B.1.617 variant and have been found for the first time together in India.

L452R mutation has been able to transmit more easily and can also neutralise the ability of the antibodies present in the body.
Process of classification
Variant of virus are taken for investigation if there are pathogenic, epidemiological, immunological properties.

Based on its ability to cause effects on health of individuals, it may be declared as a variant of concern by experts.

Variant of interest (VOI), variant of concern (VOC) and variant of high consequence is the classification used by the US Centers for Disease Control and Prevention (CDC).