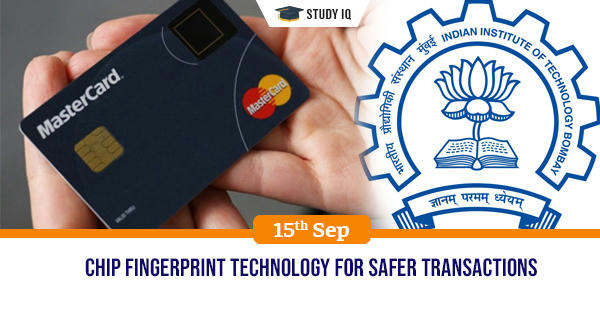 Chip fingerprint technology for safer transactions
Date: 15 September 2019
Tags: Miscellaneous
Issue
IIT Bombay researchers have developed a technology that can be used for protecting chips of devices through fingerprint like identity.This is known as a physically unclonable function.
Background
The emergence of Internet of Things has brought in, rather urgently, a need for low-cost security technology. While passwords and other such forms of encryption are software-based, there is also a need for security at the hardware level.
Details
Secure transactions demand security at various levels. For example, credit card has a chip attached to it and the identity is downloaded with the card.

To prevent the card from being cloned, the chip has to have an electronic fingerprint-like identity.

Unlike an optical image of a fingerprint that can be lifted easily, this electronic fingerprint has several layers, thus making cloning hard. Such an identity is what the researchers have developed.

This technology is currently being developed for Defense Research and Development Organisation , which can enhance its reputation if it succeeds in its working.
Importance
Increases security in digital transactions by securing chip identity.

Creation of indegenous technology that can reduce cost cutting in manufacture of devices.