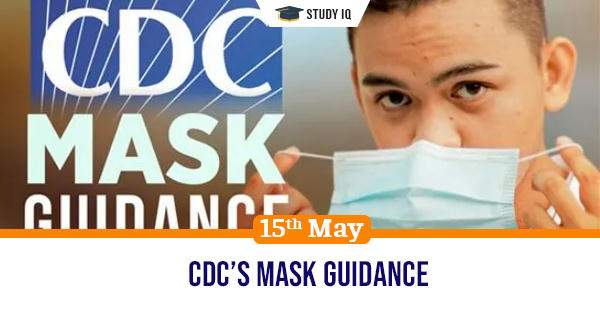 CDC's mask guidance
Date: 15 May 2021
Tags: Miscellaneous
Issue
The Centers for Disease Control and Prevention of US has brought out a new guideline that says that fully vaccinated individuals can avoid wearing masks.
Background
Wearing a face mask has been the most prominent measure to keep Covid-19 infection at bay. The new guidelines provide hope of life returning to normalcy.
Details
The new guidelines have been increasing confusion among officials regarding whether to implement their own instructions or wait for further information.

The details of the guidelines say that only fully vaccinated individuals with atleast two weeks ago can get rid of masks outdoors or in most indoor settings.

The agency has not said anything about face cover in schools. It has recommended wearing face cover while visiting health care facilities, using public transport or living in congested facilities such as prisons and shelters.
Importance of new guidelines
The move has stunned some experts, political leaders as well as business class. The CDC had only some time ago allowed fully vaccinated people to remove masks in outdoor settings.

The government has opened vaccination for younger adults between 12- 15 years. More than 40 percent of population has atleast received one dose of the vaccine.

The active cases in the country have been near the 35,000 mark from past few months. This may have influenced the decision.

It could also mean a form of incentivising scheme for vaccinated individuals. It will encourage more people to get vaccinated and avoid masks.

Some organisations have blamed the government for the hasty move as their employees will have to deal with potentially vulnerable sections not wearing masks.
Identifying vaccinated individuals
The government has issued white paper cards as a proof of vaccination. However, fake versions of these cards are sold illegally online.

There may be scope for creating vaccine passport and issuing to every individual that will act as a way to travel and move around without getting quarantined.