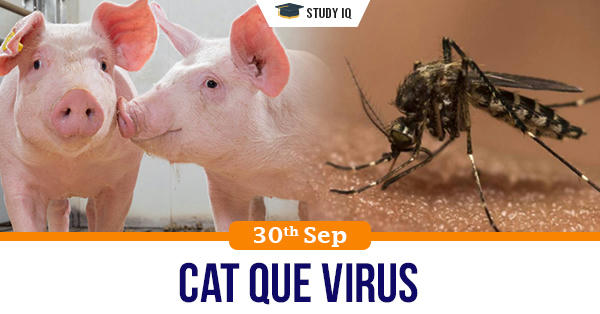 Cat Que virus
Date: 30 September 2020
Tags: Miscellaneous
Issue
In a study, virologists have noted the presence of antibodies against the Cat Que virus (CQV) in two human serum samples.
Background
The presence of the Cat Que virus has been largely reported in Culex mosquitoes in China and in pigs in Vietnam.
Details
For the study, 1020 human serum samples that showed acute febrile illness during 2014-2017 were collected. All these samples, however, were found to be negative for CQV when subjected to the real-time RT-PCR test.

Of these samples, the majority (806) were collected from Karnataka, followed by Maharashtra (116), Kerala (51), Madhya Pradesh (20) and Gujarat (27).

However, antibody positivity was recorded in two of the 883 samples that were tested for the presence of antibodies.

These two samples were taken from Karnataka in 2014 and 2017. Significantly, the study notes that a virus was isolated from a jungle myna serum sample in Sagar taluka of Karnataka in 1961. This virus was characterised as CQV in 2016 using next-generation sequencing technology.

For CQV, domestic pigs are considered to be the primary mammalian hosts. Antibodies against the virus have been reported in swine reared locally in China.

It was first isolated in 2004 from mosquitoes during the surveillance of arbovirus activity in northern Vietnam.

Other viruses that belong to the same genus as CQV and are similarly transmitted through mosquitoes include the Cache valley virus that can cause meningitis, the La Crosse virus that can cause paediatric encephalitis, the Jamestown Canyon virus that causes Jamestown Canyon encephalitis and the Guaroa virus that causes febrile illness.