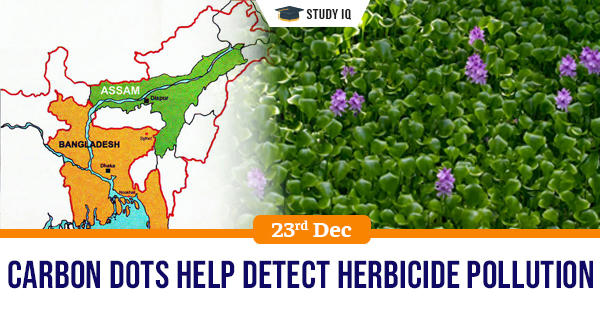 Carbon dots help detect herbicide pollution
Date: 23 December 2019
Tags: Miscellaneous
Issue
Researchers from Assam have used the commonly found invasive plant water hyacinth to produce carbon nanoparticles. These extremely tiny (less than 10 nanometre) particles can be used for detecting a commonly used herbicide, pretilachlor.
Background
In Assam, every water body is infested with water hyacinth, and it is an easy and cheap option to explore. So use of the plant for carbon dot production was common.
Details
The researchers harvested water hyacinth leaves, removed the chlorophyll, dried and powdered it. The sieved powder underwent several treatments including heating at 150 degree Celsius to convert it to carbon dots.

The carbon dots were able to give a green fluorescence under UV light. The extremely small oxygen functional groups on the surface of the dot are responsible for the fluorescence.

The herbicide pretilachlor is mixed with water and carbon dots, and studied using special equipment. The fluorescence intensity increases in the presence of the herbicide.

After successful testing in the laboratory conditions, the team collected soil samples from different places across the State and proved the efficiency of the carbon dots in detecting pretilachor in soil samples.

The research also describes the mechanism by which electron transfer happens between the dot and the herbicide which enables the fluorescence enhancement.

This experiment is commercially viable option when compared with the sensors currently available in the market, as the raw material for the construction of the sensor, the water hyacinth is readily available and is practically a waste material.
Pretilachor
Pretilachlor is one of well known synthetic selective herbicide. Pretilachlor was colourless liquid, and stock solution was prepared freshly in dimethylsulfoxide. (DMSO) before use.

Pretilachlor is used to control annual grasses, broad-leaved weeds and sedges in rice and works by inhibiting cell division.