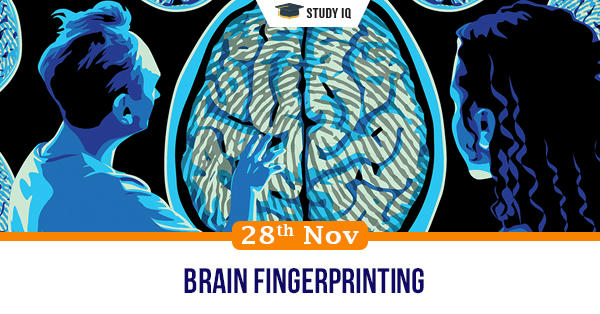 Brain fingerprinting
Date: 28 November 2020
Tags: Miscellaneous
Issue
The Central Bureau of Investigation (CBI) has brought all the four accused in the Hathras case to the Forensic Science Laboratory (FSL) lab in Gandhinagar for brain mapping and polygraph tests.
Details
The BEOSP (or the BEOS) is an electroencephalogram (EEG) technique by which a suspect's participation in a crime is detected by eliciting electrophysiological impulses.

The technique is also referred to as 'brain fingerprinting' and has been categorised as "non-invasive" and a legitimate neuro-psychological method of interrogation.

The technique is used to interrogate the brains of suspected criminals or witnesses for neural evidence that they recognise certain individuals or entities, such as those from a crime scene to detect knowledge that only the true perpetrator could possess.

It is based on the idea of neurological signal storage to identify previous memory. Neuroscience experts feel that the brain responds differently to novel experiences than to experiences previously encountered or participated in.

For example, when the information is obtained from a secondary source viz. books, conversations, hearsay etc. the signals are encoded secondarily since there no primary experiential components and the brain deals mainly with conceptual aspects.

When the brain pieces together an array of signals obtained from a 'primary' source or first-hand experience, the information is deep-seated and responds differently from an array of signals obtained from a person who has received the same information from secondary sources (non-experiential). This is called 'primary encoding'.

A BEOSP procedure ideally requires no question-answer session to be conducted during the test, as opposed to the polygraph "lie detector" test.

In the BEOSP test, the individual is simply presented with the crime events/scenarios, following which the subject's brain is analysed to verify if the encoded information is stored as experiential knowledge

The results are more credible since it is difficult to tamper with neuroscientific mappings as opposed to physiological responses which can be controlled and even potentially be faked with enough training of the mind.