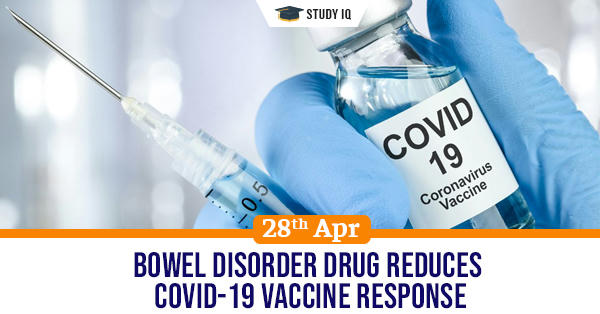 Bowel disorder drug reduces Covid-19 vaccine response
Date: 28 April 2021
Tags: Miscellaneous
Issue
A research has found that a commonly used drug for inflammatory bowel disease can reduce the efficacy of Covid-19 vaccine.
Details
The drug is an anti-tumour necrosis factor (anti-TNF) biologic drug known as infliximab and has shown to have reduced the anti-body response of Pfizer-BioNTech or the Oxford-AstraZeneca vaccine.

Anti-TNF drugs are mostly used for the treatment for immune-mediated inflammatory diseases that can suppress the immune system.

Suppressing the immune system will directly affect the efficiency of vaccines that rely on antibody response to reduce infection.

The research also says that alternative treatment drug known as vedolizumab is more likely to fare better in generating antibody response.

A vaccine can only be effective if it shows ability to target disease causing viruses and prevent any subsequent infection.
The outcomes
Only about one-third of participants showed adequate number of anti-bodies after being treated with infliximab drug.

Participants taking infliximab and immunomodulator drugs simultaneously showed even lower levels of antibodies after the first dose.

The subsequent research showed that people taking infliximab after second dose had significantly higher amount of antibodies.

There was also a recommendation that individuals taking anti-TNF drugs should be considered priority for the second dose.