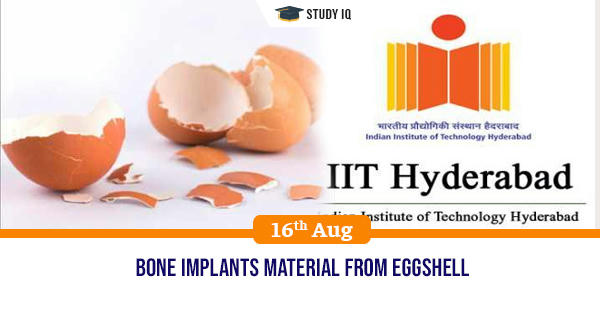 Bone implants material from Eggshell
Date: 16 August 2019
Tags: Miscellaneous
Issue
Researchers from Indian Institute of Technology (IIT) Hyderabad and Dr.B.R. Ambedkar National Institute of Technology (NIT) Jalandhar have developed a process by which bone implant materials can be synthesized from waste eggshells.
Background
Bone

graft is a surgical procedure to fix problems with bones or joints. Bone grafting, or transplanting of bone tissue, is beneficial in fixing bones that are damaged from trauma or problem joints

The bones are usually fixed using natural body materials or artificial and synthetic materials such as

Plaster of Paris, and more recently, phosphate compounds like hydroxyapatite and calcium phosphate

but they can be poisonous in some cases.
Features and Importance of research
Large amount of eggshells are dumped as waste across the world but bioceramics made from them exhibit greater biocompatibility than other synthetic powders due to the presence of additional bioactive elemental ions. Eggshells are inexpensive and can be obtained in unlimited quantities

Researchers have synthesized Tricalcium phosphate nanopowder which is hundred thousand times smaller than the width of a single human hair from eggshells.

There is always some hesitancy in using synthetic chemicals as bone replacement materials because of the presence of chemical residues that are toxic if not eliminated completely.

Materials like ß-tricalcium phosphate (ß-TCP) , processed using nitrate compounds can be dangerous for health and needs urgent substitution.