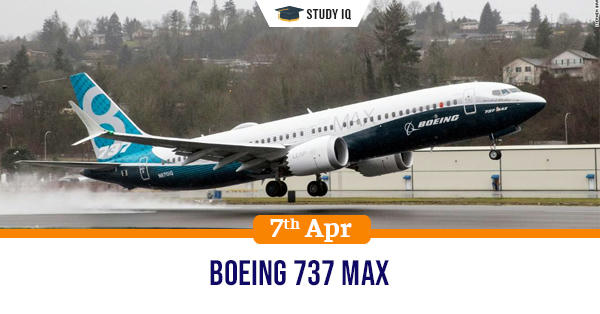 Boeing 737 Max
Date: 07 April 2021
Tags: Miscellaneous
Issue
Boeing 737 Max aircrafts have been cleared to fly after US and European authorities gave them the green signal.
Background
The Boeings were grounded after a series of accidents. These accidents were attributed to technical failure in these aircrafts.
Details
In October 2018, a 737 Max aircraft crashed in the Java Sea shortly after taking off from Jakarta. Later, in March 2019, similar aircraft of the same model crashed in Ethiopia.

After these incidents, aviation authorities decided to ground these models until the investigation is not carried out to determine the reasons.
The investigation
A major design flaw was observed in the manoeuvring characteristics augmentation system (MCAS) that pushes the nose of aircraft down to prevent stalling of aircraft.

During the two crashes, the MCA wrongly read the plane's angle of movement and pushed the nose down, leading to crash.

Several shortcomings were also found in processes laid down by Boeing as well as the US Federal Aviation Administration (FAA).
Lifting of ban
The ban was lifted after technical modifications and additional pilot training. India is yet to allow lifting ban and has asked the airliner to conduct its own tests.

Countries such as Japan, Canada, Brazil, Europe, the UK, the UAE, and Australia approved the aircraft's return.