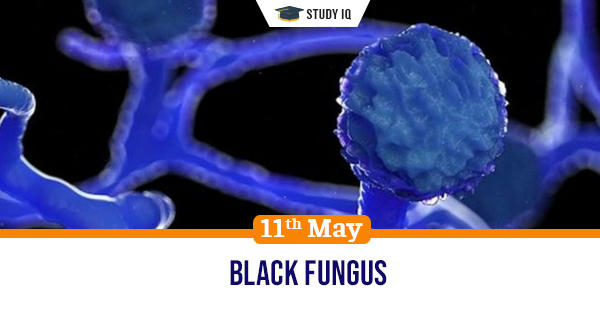 Black fungus
Date: 11 May 2021
Tags: Miscellaneous
Issue
Some states have been receiving frequent cases of a fungal infection known as mucormycosis. It is commonly referred to as black fungus.
Background
Several Covid-19 patients have started showing symptoms of a unique health condition after recovering from the infection.
Details
The disease starts in the skin and later starts affecting brain and lungs. Patients are also suffering blindness due to the disease.

The cases were pre-dominantly observed in Maharashtra, Gujarat and Delhi. The health ministry has given advisory based on evidences.

The disease is very rare and is caused by commonly present moulds known as mucormycetes. These can be found in the environment.

The main victims are those who are on medications for underlying health conditions. They do not have the ability to fight environmental pathogens.

The lungs and sinuses of individuals get affected when they inhale fungal spores from environment.

Mucormycetes are not a cause of concern to those individuals who are healthy and not on health medications.
Effects of infection
Symptoms include pain and redness around the eyes or nose, headache, with fever, coughing, bloody vomits, shortness of breath and altered mental status.
Diagnosis
A sample respiratory system fluid may be collected for testing in the lab. Other ways include CT scan of lungs and sinuses or tissue biopsy.
Treatment
Antifungal medicines may be able to treat the infection but it may ultimately require surgery.

There should be focus on controlling diabetes, weight gain, reduce usage of immune-suppressants.
Preventing the infection
Some sections of people are more vulnerable to the disease than others. Prolonged ICU stay, high diabetes and immune suppressing drugs are more likely factors.

Recovering Covid patients are advised to cover their face while visiting construction sites. They should wear long sleeve clothes and gloves while gardening.