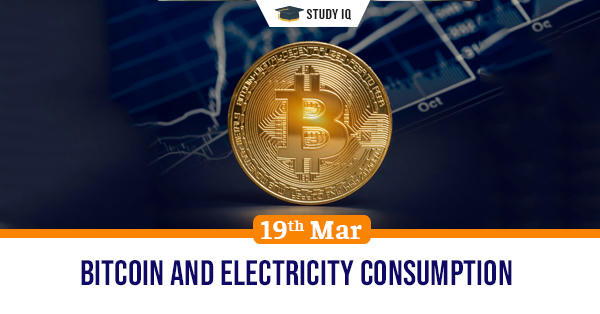 Bitcoin and electricity consumption
Date: 19 March 2021
Tags: Miscellaneous
Issue
Large number of investors of bitcoin are worried that it will leave a large carbon footprint. This is due to large amount of energy consumed while using bitcoin.
Background
Bitcoin is currently worth $1 trillion and large number of people is trying to make use of opportunity to increase their wealth.
Details
The annual carbon footprint of Bitcoins is almost equal to that of Mumbai or on the national scale of carbon footprint of Slovakia.

Studies have shown that Bitcoins leave behind a carbon footprint of 38.10 Mt a year. Carbon footprint of Mumbai is 32 Mt, while Bangalore's is at 21.60 Mt.

Researchers have created Bitcoin Energy Consumption Index which tries to estimate the energy use of the bitcoin network.
Relation between bitcoin and electricity
Bitcoins are created by process of mining in which high-tech computers are used for long time to perform complex calculations.

More the coins are there in the market, longer it will take to mine a new one through the process.

Each transaction of bitcoin roughly consumes an average 300kg of carbon dioxide that is equivalent to the carbon footprint produced by 750,000 credit cards swiped.

The main concern is that large bitcoin is mined in areas where majority of electricity is produced from coal based power.
Other concerns of mining
Miners use high-tech computers for hours to formulate new blockchains which result in failure of machines due to high load.

As miners continued to buy new chips for running mining process, the world witnessed shortage of chips that has impacted Electric Vehicles manufacturing.

Countries such as Iran are using Bitcoin to boost their revenues while its oil exports are suffering from international sanctions.
Controlling carbon footprint
Governments can ban crypto-currencies in the country as it will affect the prices of a digital currency and result in low mining.

Prices of electricity could be increased for high consuming households after cross-verifying that they are indulging in bitcoin mining.