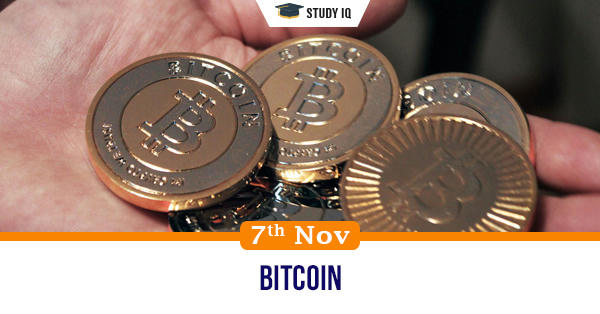 Bitcoin
Date: 07 November 2020
Tags: Miscellaneous
Issue
The U.S. Justice Department has seized over $1 billion worth of bitcoin associated with the underground online marketplace Silk Road.
Background
The government will now try to prove in court the items are subject to forfeiture. It is the largest cryptocurrency seizure ever made by the U.S. government.
Details
Bitcoin is a digital or virtual currency created in 2009 that uses peer-to-peer technology to facilitate instant payments.

Bitcoin offers the promise of lower transaction fees than traditional online payment mechanisms and is operated by a decentralized authority, unlike government-issued currencies.

There are no physical bitcoins, only balances kept on a public ledger that everyone has transparent access to, that – along with all Bitcoin transactions – is verified by a massive amount of computing power.

Unlike fiat currency, Bitcoin is created, distributed, traded, and stored with the use of a decentralized ledger system known as a blockchain.

Bitcoin is one of the first digital currencies to use peer-to-peer technology to facilitate instant payments.

The independent individuals and companies who own the governing computing power and participate in the Bitcoin network are comprised of nodes or miners.

Bitcoin mining is the process by which bitcoins are released into circulation. Generally, mining requires the solving of computationally difficult puzzles in order to discover a new block, which is added to the blockchain.
Fiat currency
Fiat money is a government-issued currency that isn't backed by a commodity such as gold. Fiat money gives central banks greater control over the economy because they can control how much money is printed. Most modern paper currencies, such as the U.S. dollar, are fiat currencies.

Fiat money only has value because the government maintains that value, or because two parties in a transaction agree on its value.