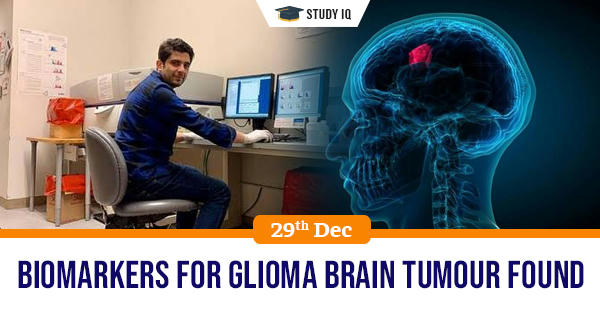 Biomarkers for glioma brain tumour found
Date: 29 December 2019
Tags: Miscellaneous
Issue
Researchers have found potential gene biomarkers that can be used for prognosis and early diagnosis of the most aggressive form of primary brain tumour called glioblastoma.
Background
The biomarkers can help in knowing if the tumour is at an initial stage (low-grade) or advanced stage (high-grade).
Details
The researchers looked at immune cells called macrophages in the tumour microenvironment to understand their role in suppressing or boosting the immune system to keep the tumour under check.

The role of certain macrophages in suppressing the immune system leading to progression of cancers such as breast, prostate, bladder and cervical cancers is already known.

the researchers identified two macrophages, M1 and M2, that were associated with the tumour. These were identified using hallmark gene markers.

The M1 macrophage is protective for glioma while the M2 macrophage is not. The M2 macrophage control the immune response and intimately interacts with the tumour and supports tumour progression.

As the glioma progresses from low-grade to high-grade, the amount of M1 macrophages reduced and the amount of M2 macrophages increases. Thus the ratio of M2 macrophage marker CD163 versus M1 macrophage marker CCL3 can ascertain the glioma progression.

In the low-grade glioma, the ratio of M2/M1 macrophages is less while it is high in the case of high-grade glioma tumour.

In low-grade glioma there is presence of both M1 and M2 macrophages. But if there are more M2 macrophages (as indicated by the gene marker expression) than M1 macrophages, the survival is less. Likewise if there are more M1 macrophages then the patient has better chances of survival.

Compared with healthy individuals, there was elevated level of M2 macrophages in peripheral blood too. This indicates that the influence of glioma is so prominent that M2 macrophages can be found in the blood.