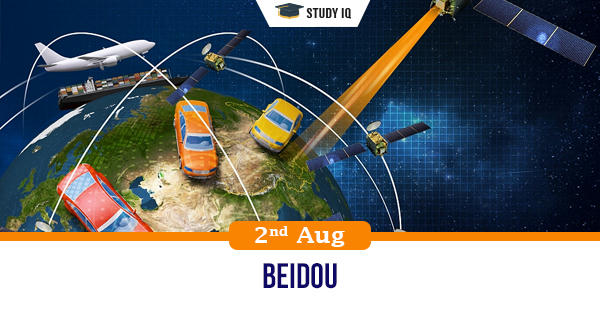 BeiDou
Date: 02 August 2020
Tags: Miscellaneous
Issue
China has said that its fully operational home-made BeiDou navigation satellite system is ready to provide global services.
Background
The BeiDou Navigation Satellite System is a Chinese satellite navigation system. It consists of two separate satellite constellations. Countries such as Pakistan have already switched to BeiDou.
Details
China's navigation system uses a network of satellites and can provide positional accuracies of fewer than ten metres (GPS provides positioning accuracies of fewer than 2.2 metres).

China initiated BeiDou in 1994 with aims to integrate its application in different sectors, including fishery, agriculture, special care, mass-market applications, forestry, and public security.

BeiDou offers services including accurate positioning, navigation, and timing as well as short message communication.

The GPS is owned by the US government and operated by the US Air Force. Apart from this, Russia has its navigation system called GLONASS, the European Union (EU) has Galileo, while India's is called Navigation with Indian Constellation (NavIC).

Indian Space Research Organisation (ISRO) is in talks with processing chip manufacturers such as Qualcomm to substitute the existing GPS with the Indian version of satellite navigation.

By completing BeiDou, China now has its own navigation system, which will compete with systems developed by other countries.