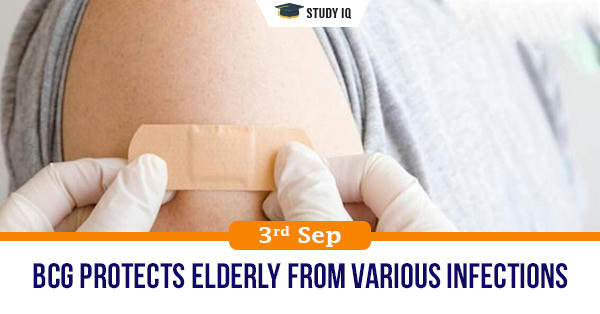 BCG protects elderly from various infections
Date: 03 September 2020
Tags: Miscellaneous
Issue
The BCG vaccine, originally developed for TB, is in focus again for its efficacy against various infections, including Covid-19.
Background
A clinical study has found elderly people benefit from the vaccine, which stimulates the immune system.
Details
The vaccine has efficacy against various infections as it stimulates the immune system. Due to Covid-19, the researchers looked at the preliminary results. The study looked at a wide range of infections.

In the placebo group, 42.3 percent of the elderly developed an infection, against 25 percent of the BCG group. The BCG group had their first infection on average 16 weeks after vaccination, compared to 11 weeks for the placebo group.

As the novel Coronavirus is wreaking havoc across countries, the researchers went back and checked the preliminary results of study and noted that there is a wide range of infections that are covered in the study.

While the study highlighted protection against respiratory infections is provided by the BCG vaccine, the World Health Organization (WHO) in April said that it does not recommend the usage of BCG vaccination for battling COVID-19.

WHO stated that the vaccination is capable of preventing severe forms of TB in children and their diversion for another use will have implications.

Although most protection seems to have been against respiratory infections of viral origin, whether or not BCG also works against COVID-19 has not yet been demonstrated, due to the low prevalence of COVID-19 in this study.