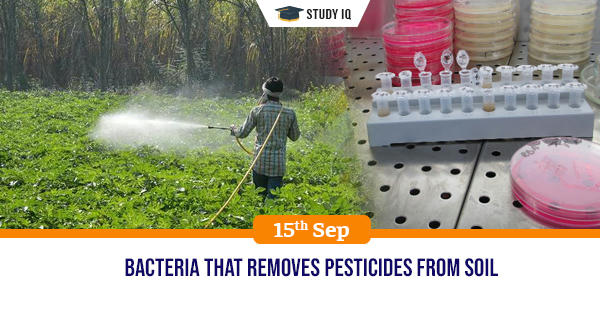 Bacteria that removes pesticides from soil
Date: 15 September 2019
Tags: Miscellaneous
Issue
Indian Institute of Technology- Bombay researchers have identified a soil bacterial strain from the campus that helps in "complete remediation" of the carbaryl pesticide.
Background
Carbaryl pesticide continues to be used in the agricultural sector in spite of experimental studies in laboratory animals suggesting it to be a probable carcinogen to humans.
Carbaryl is also persistent in nature leading to pollution of both soil and water ecosystems.
Details
The newly isolated bacterial strain utilises the pesticide as its source of carbon and nitrogen for its growth.

The team was also able to identify the genes responsible and the metabolic path that was involved in the complete metabolism and bioremediation process.

The bacterial strain, whose species is yet to be identified, comes under the Pseudomonas genus and is able to grow well on medium supplemented with very high concentration of carbaryl compound.

The bacterial enzyme 'carbaryl hydrolase' acts on carbaryl and generates '1-naphthol' and 'methylamine'. While 1-naphthol is used as a carbon source, methylamine is used as the nitrogen source.

It can completely degrade the pesticide in 12-13 hours, which is four to five times faster than other bacterial strains reported earlier.

The bacteria are able to adapt themselves to other recently introduced pesticides by acquiring genes through horizontal gene transfer and also evolving some existing genes to perform new functions.