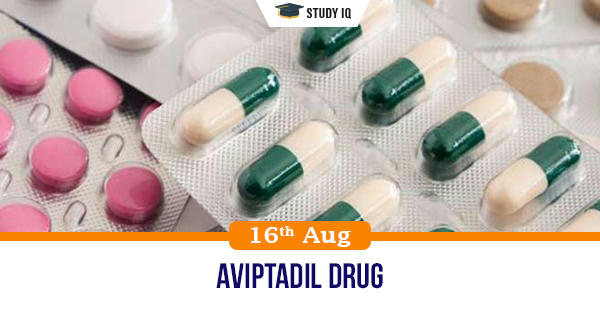 Aviptadil drug
Date: 16 August 2020
Tags: Miscellaneous
Issue
An old drug formulation, RLF-100, is being probed to treat Covid-19 patients after initial studies have shown that the drug is able to halt SARS-CoV-2 virus replication in lungs.
Background
RLF-100 has been granted "Orphan Drug Designation" by the US Food and Drug Administration (FDA) for Acute Respiratory Distress Syndrome and chronic lung diseases.
Details
RLF-100, also called Aviptadil, is a formulation of synthetic human Vasoactive Intestinal Polypeptide (VIP). VIP is released throughout the body, but remains mostly concentrated in lungs.

It is produced by immune cells and nerve endings and acts as a neurotransmitter. It helps improve muscle activity and blood flow in gastrointestinal tract.

Studies have shown VIP has anti-inflammatory and anti-cytokine activity properties. Preliminary studies have shown this protects alveolar type II cells that are responsible for oxygen exchange in lungs.

Since coronavirus attacks lungs and the alveolar cells, the drug may be helpful in preventing SARS-CoV-2 onslaught in alveolar cell and limit damage in lung.

The drug will be targeted on those requiring high flow nasal oxygen, and those on non-invasive or invasive ventilator support. Doses for three successive days will be given to patients.

There are still no well-designed clinical trials that have found optimistic findings for RLF-100 and research into its use to treat Covid-19 is in nascent stages.

The manufacturer claims rapid clearance of pneumonia and improvement in oxygen levels in patients this drug was used on emergency basis.