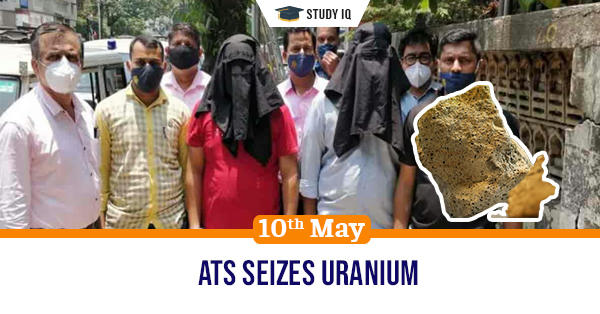 ATS seizes uranium
Date: 10 May 2021
Tags: Miscellaneous
Issue
Maharashtra Anti-terrorism Squad (ATS) has arrested individuals for possessing 7 kg of uranium worth Rs 21 crore.
Background
Uranium metal is a radioactive metal that is used in nuclear power plants. Their presence in open market is a big concern.
Details
The criminals were trying to sell the metal online and the ATS sent dummy customers to collect samples.

The samples were then sent to BARC for verification, which confirmed that the metal was natural uranium. They were arrested under the Atomic Energy Act of 1962 for illegal possession.
Uranium metal
Uranium occurs naturally in soil, rock and water in low concentration. It can be extracted commercially from minerals containing the metal.

It is used in nuclear power plants due to unique characteristics of fission. Depleted uranium can also be used as a shield in radiation therapy.

It is also used as a counterweight in aircraft and industrial machinery due to its high density property.
Black marketing of uranium
It is assumed that the individuals obtained the metal while scrapping a truck with factory machinery.

It was later confirmed to be uranium metal and was listed on illegal websites for sale.
Handling uranium waste
The Atomic Energy Commission has stated that factories using uranium as counter-weights in machines have to give the metal to Atomic Energy agencies.