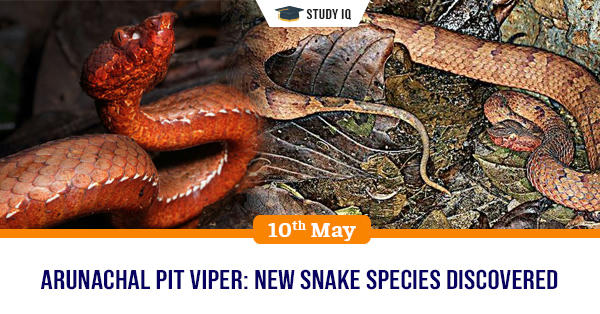 Arunachal Pit Viper: New Snake Species Discovered 
Date: 10 May 2019
Tags: Miscellaneous
Researchers (Herpetologists) have discovered new species of reddish-brown pit viper from a forest in West Kameng district of Arunachal Pradesh. It has been named Arunachal pit viper and its scientific name is Trimeresurus arunachalensis. It makes Arunachal Pradesh only Indian state to have pit viper snake species to be named after it.
Vipers (Viperidae) are family of venomous snakes found in most parts of the world. They have relatively long, hinged fangs that permit deep penetration and injection of snake venom. Arunachal pit viper is fifth brown pit viper species found in India, other four are -Malabar, horseshoe, hump-nosed and Himalayan which were discovered 70 years ago.
Arunachal pit viper
It is species of reddish-brown pit viper. It is venomous snake with unique heat-sensing system. Only one male specimen of this specimen has been found so far, which currently makes it rarest pit viper in the world. More surveys and sightings of this species will gradually give details about its habits, diet and breeding, whether it lays eggs or bears live young.
Note
Arunachal pit viper is second snake species to be discovered in recent times in Arunachal Pradesh after non-venomous crying keelback was discovered in state's Lepa-Rada district in 2018.