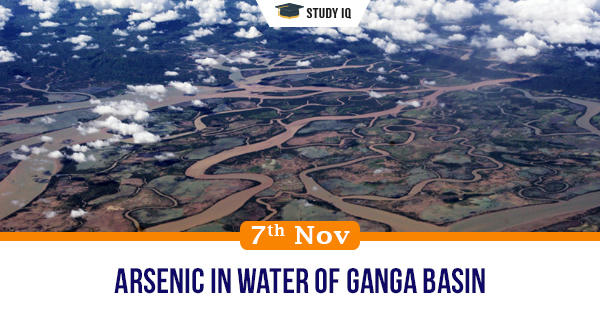 Arsenic in water of Ganga basin
Date: 07 November 2020
Tags: Miscellaneous
Issue
In India, over one million people have died in the last 30 years because of the presence of arsenic in drinking water.
Background
Large villages have lost their population due to the increasingly prevalent illness caused by continuous ingestion of arsenic laced water.
Details
Arsenic occurs naturally in groundwater supplies of the Ganga basin, as well as coming from industrial pollution and mining.

This affects an estimated 50 million people in India alone, as well as people in parts of Bangladesh, Nepal, and Tibet.

In some places, arsenic levels reach over 300 times the safe levels prescribed by the World Health Organisation.

Arsenic also seeps into irrigation water and crops as the situation is made worse by over-extraction of groundwater.

People living in the villages along the Ganga are suffering from skin lesions, ailments of kidney, liver, and heart, neurological disorders, stillbirth, and cancer associated with long term consumption of arsenic found in water.

Chronic exposure to arsenic causes skin problems as well as damage to the neurological and reproductive systems and cardiovascular problems, diabetes mellitus, respiratory and gastrointestinal diseases, and cancer.

Exposure to high concentrations of arsenic during pregnancy was associated with a six-fold increased risk of miscarriages, stillbirths, preterm births, low birth weight, and neonatal deaths.

Younger children suffer more as their body is unable to expel poisonous elements easily and their organs are affected. This results in stunting and wasting.