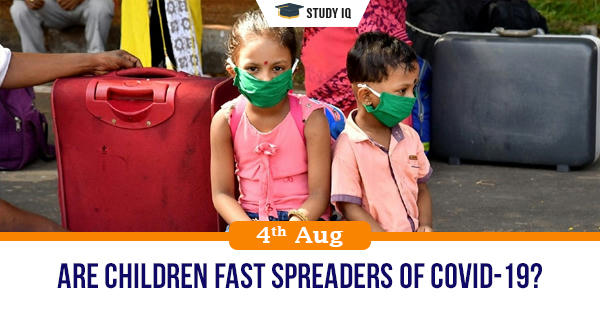 Are children fast spreaders of Covid-19?
Date: 04 August 2020
Tags: Miscellaneous
Issue
Recent studies have suggested that children may spread the novel coronavirus at least as much as adults, contrary to what was believed earlier.
Details
A study in the US assessed levels of virus genetic material in the nose, among 145 cases of mild to moderate Covid-19 within the first week of symptom onset. The viral load was compared in three age groups – children under 5, children aged 5-17, and adults.

Virus levels were much higher in children under 5 compared to the other two groups. The findings point to the possibility that the youngest children transmit the virus as much as other age groups.

An Italian study put up on a preprint server suggested that although child contacts of positive cases were less likely to become cases themselves, children were more likely to infect household members.

An analysis found that the greatest risk of transmission to contacts were 14 cases under age 15. Eight of the 14 (age 1-11) infected 11 of 49 contacts (22%).

In households with an index patient aged 10-19, it was found that 18.6% of the contacts got infected, compared to 11.8% among household contacts of index cases across all age groups. In effect, older children and teens may be strong spreaders.

A Swiss study traced the household contacts of all children under age 16 diagnosed at Geneva General Hospital during March 10-April 10. Of 40 households, only in three was the child found to be the index case.

This suggested, the researchers wrote, that children most frequently acquire Covid-19 from adults, rather than transmitting it to them.