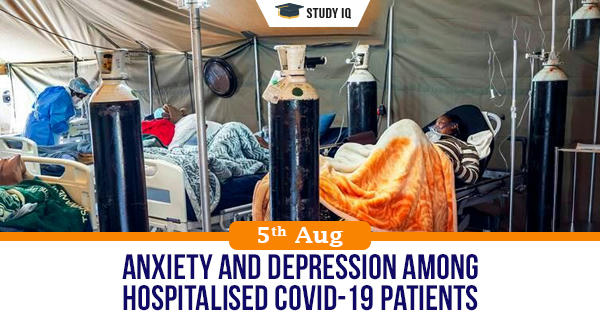 Anxiety and depression among hospitalised Covid-19 patients
Date: 05 August 2020
Tags: Miscellaneous
Issue
Researchers from the San Raffaele hospital in Milan, Italy have found that from the number of Covid-19 patients they surveyed, a significant proportion was experiencing mental illnesses.
Background
The findings of their new study documented at least 402 cases of patients experiencing post-traumatic stress disorder (PTSD), depression, and anxiety, among other illnesses.
Details
Considering the few preliminary studies on COVID-19 and the evidence of psychiatric manifestations of SARS and MERS, the authors hypothesised that survivors of COVID-19, will show a high prevalence of emergent psychiatric conditions including mood disorders, anxiety disorders, PTSD, and insomnia.

They said their preliminary data suggested that patients with COVID-19 experienced delirium, depression, anxiety and insomnia.

A psychiatric assessment of the patients was undertaken after they were discharged with COVID-19. Overall, 55.7 percent of them self-reported at least one psycho-pathological manifestation.

At least 28 percent said they suffered from PTSD, 31 percent from depression, 42 percent from anxiety, 20 percent from obsessive-compulsive (OC) symptoms and 40 per cent from insomnia.

The authors found that females, especially those with a previous psychiatric diagnosis, scored more on most measures. Younger patients showed higher levels of depression and sleep disturbances.

The authors also found that the duration of hospitalisation inversely correlated with PTSD, depression, anxiety, and symptoms of OC disorders.

There are two possible pathways for psychopathological manifestations of the disease, one is when the virus directly affects the central nervous system (CNS) and the other is indirect, via an immune response.

Apart from immune system mechanisms, COVID-19 patients' stress might be exacerbated by the fear of the illness itself, uncertainty of the future, stigma, traumatic memories of severe illness, and social isolation that they experience during treatment.

Another study investigated hospitalised COVID-19 patients in Wuhan and found that 36.4 per cent of them showed neurologic symptoms, which were more common in patients with severe infection.