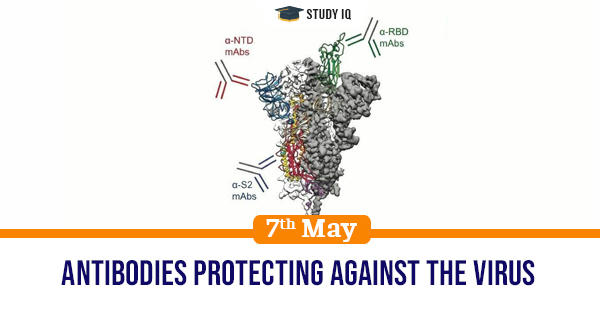 Antibodies protecting against the virus
Date: 07 May 2021
Tags: Miscellaneous
Issue
Researchers have come up with a detailed mechanism to explain how antibodies work to neutralise vaccine.
Background
When an individual is infected, the body produces antibodies to target the SARS-CoV-2 virus that causes Covid-19.
Details
Previous studies were focused on an important part of Coronavirus spike protein known as receptor-binding domain (RBD).

The receptor binding domain is the part of spike that attaches to healthy human cell and helps virus to infect them.

Researchers who studied blood serum of recovered SARS CoV-2 patients found that majority of the antibodies present in the serum targeted the viral spike protein outside the RBD.

The immune stem does not only focus on RBD but the entire spike. It covers both the arc and the stalk to neutralise the virus.

Majority of these non-RBD antibodies targeted a region known as N-terminal domain (NTD), which is similar to an umbrella canopy of the virus.

The NTD is a part of the viral spike that mutates often. This is the reason why virus variants are effective at avoiding our immune system.