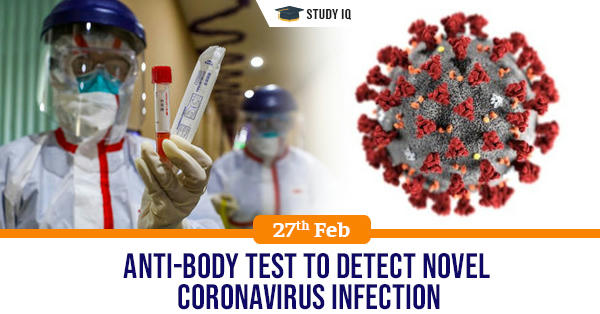 Anti-body test to detect novel coronavirus infection
Date: 27 February 2020
Tags: Miscellaneous
Issue
Using an antibody test developed by the Duke-NUS Medical School that relies on blood samples, the Singapore Ministry of Health has been successful in identifying two people who were infected with the novel coronavirus (SARS-CoV-2) and have since recovered.
Background
The antibody test can be used for detecting people infected with novel coronavirus but are asymptomatic or exhibit only mild symptoms.
Details
Unlike the currently used molecular test that detects the presence of viral genetic material in oral swab samples, the diagnostic test developed by Duke-NUS Medical School detects antibodies developed by the immune system when infected with the novel coronavirus.

Antibodies will start appearing in the body starting a few days after infection and will peak in about two-three weeks after infection. The test may not be able to detect antibodies if the person is tested too soon after infection.

While the currently used molecular test has low sensitivity and cannot identify people who have recovered from COVID-19 illness as they will no longer harbour the virus, antibodies produced by the immune system in response to infection will be present in the blood for a long time.

This makes the antibody test particularly important to trace even people who have recovered from illness.

If there are antibodies against the coronavirus, the antibodies will prevent the coronavirus from replicating. This is a definitive readout of the patient being previously infected by the virus because you will not have antibodies against the virus if you have never been infected by it before.

The researchers had used the virus and genetic material derived from the virus to develop several specific laboratory tests to detect the virus-specific antibodies for contact tracing and other applications.

Two different antibody testing platforms (virus neutralisation assay and ELISA assay) were used to confirm past infection.

This became possible as these people, despite having recovered from COVID-19 illness, still had very high levels of the virus-specific antibodies in their blood.