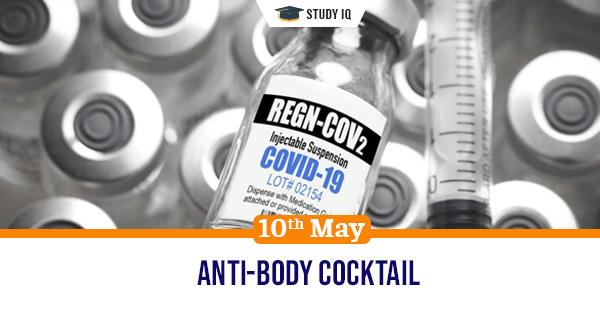 Anti-body cocktail
Date: 10 May 2021
Tags: Miscellaneous
Issue
India's CDSCO has approved an investigational anti-body cocktail produced by Swiss company Rosche for Covid-19 treatment.
Background
The cocktail of anti-body was used as a treatment for former US President Donald Trump when he was infected with the virus.
Details
The antibody cocktail is made up of two antibodies casirivimab and imdevimab and is used in treatment of mild and moderate cases of Covid-19 in high-risk patients.

The two antibodies are monoclonal antibodies and are artificial proteins made in laboratories.

They have the ability to fight pathogens such as virus by mimicking body's natural immune system. They are directed at the spike protein of the SARS CoV-2 virus.

The cocktail contains antibodies that attach to two different parts of the spike protein and thus remains more effective in tackling mutated versions of the virus.
Usage of cocktail
The cocktail is used for treatment of high risk adults and paediatric patients who have moderate and mild cases of the infection.

The drug has to be administered through the intravenous infusion or subcutaneous route and stored at temperatures of 2°C to 8°C.

High risk patients include those individuals having cardiovascular disease, kidney disease, diabetes, chronic lung etc and above the age of 60 years.
Effectiveness
The trials conducted on patients all over the world showed that the drug reduced the risk of hospitalisation or death by 70%.

The cocktail drug has also shown ability to reduce the symptom duration by four days. It has also been successful in decreasing severity.