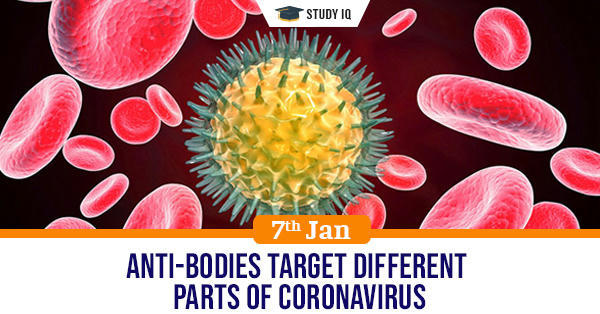 Anti-bodies target different parts of coronavirus
Date: 07 January 2021
Tags: Miscellaneous
Issue
According to a study, antibodies against Covid-19 preferentially target a different part of the virus in mild cases and a different part in severe cases.
Details
SARS-CoV-2 binds to human cells via a structure on its surface called the spike protein. Once inside, the virus sheds its outer coat to reveal an inner shell encasing its genetic material. Soon, the virus created multiple copies of itself, which are then released to infect other cells.

Antibodies that recognise and bind to the spike protein block its ability to bind to the human cell, preventing infection.

On the other hand, antibodies that target other viral components are unlikely to prevent viral spread.

They found that people with severe Covid-19 have a lower proportion of antibodies targeting the spike protein used by the virus to enter human cells than of antibodies targeting proteins of the virus's inner shell.

The research analysed the levels of three types of antibodies — IgG, IgM, and IgA — and the proportions that targeted the viral spike protein or the virus's inner shell as the disease progressed and patients either recovered or grew sicker.

They also measured the levels of viral genetic material in nasal samples and blood from the patients. Finally, they assessed the effectiveness of the antibodies in preventing the spike protein from binding to the human protein ACE2 in a laboratory dish.

Those people with mild illness tended to have a higher proportion of anti-spike antibodies, and those who died from their disease had more antibodies that recognized other parts of the virus.

The findings raise concerns about whether people can be re-infected, whether antibody tests to detect prior infection may be insufficient and whether vaccinations may need to be repeated at regular intervals to maintain a protective immune response.