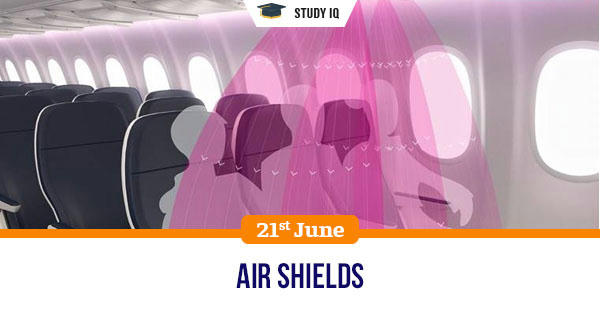 Air shields
Date: 21 June 2020
Tags: Miscellaneous
Issue
A Seattle-based company Teague has come up with a device called an air shield that can fit on to existing air vents inside an airplane cabin, thereby reducing the risk of COVID-19 spreading in-flight by regulating the air flows.
Background
As lockdowns are being lifted, international air travel is expected to resume slowly. In India, while domestic flights resumed on May 25, international flights will remain suspended till June 30.
Details
Transmission of infection may occur between passengers who are seated in the same area of an aircraft, usually as a result of the infected individual coughing or sneezing or by touch.

Highly contagious conditions, such as influenza, are more likely to be spread to other passengers in situations where the aircraft ventilation system is not operating.

Ventilation on airplanes provides a total change of air 20-30 times per hour, and most modern aircraft have recirculation systems that can recycle up to 50 per cent of the cabin air.

While the reasons for the low rates of in-flight transmission are unknown, some of the possible reasons could be the lack of face-to-face contact and the physical barriers provided by seat backs along with the characteristics of airflow.

The risk of contracting the infection is lower on an airplane than at a shopping centre or an office because the cabin air on an airplane is changed frequently.

The air shield is a single 3D-printed nozzle that fits on top existing gaspers in airplanes and creates invisible germ isolation curtains around each passenger. The nozzle utilises existing cabin air systems to virtually separate each passenger by a curtain of air.

The shape and speed of air created by the air shield deflect particles emitted from one passenger downward and away from the noses and mouths of other passengers.

Apart from airplanes, the air shield may also be used in other social spaces such as gyms, workplaces, retail outlets and restaurants.