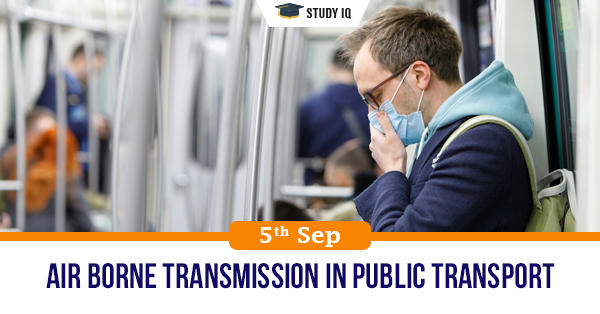 Air borne transmission in public transport
Date: 05 September 2020
Tags: Miscellaneous
Issue
A new study suggests airborne transmission in a bus in China led to one infected individual spreading of COVID-19 to 23 other fellow passengers.
Background
The study reports that 128 individuals took two buses on January 19, 2020 on a 100 minute round trip to attend a 150-minute worship event.
Details
The source patient was a passenger on bus 2 and both the buses had central air conditioners functioning in indoor recirculation mode.

On bus 2, 24 individuals turned out to be positive after the event, while none of the individuals in bus 1 were affected. Seven others who turned positive after the outdoor event had all come close to the index patient.

The index patient was sitting in the middle seat on the three-seat side of row eight. While those sitting close to the index patient were infected, other cases were spread out across the bus.

Significantly, apart from the passenger sitting next to the index patient, none of the passengers sitting in seats close to the bus window developed an infection.

The driver and passenger sitting close to the bus door did not develop infection and only one passenger who was sitting close to an openable window developed an infection.

The authors say that among the cohort of individuals studied, those that travelled in bus 2 were at a higher risk of contracting the infection than those who did not, implying that the airborne spread of COVID-19 likely contributed to the higher attack rate in the exposed bus.

Airborne transmission is defined as the spread of an infectious agent caused by the dissemination of aerosols that remain infectious when suspended in the air over long distances and time.

Airborne transmission can happen during aerosol-generating medical procedures and even through speaking and singing.

While the high attack rate and the distribution of cases on bus 2 is consistent with airborne transmission, there is no way to rule out a common surface, such as a pole.