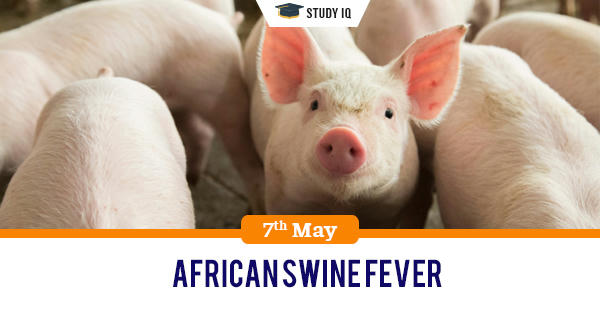 African Swine fever
Date: 07 May 2020
Tags: Miscellaneous
Issue
Since February, over 2,900 pigs have died in Assam due to African Swine Fever (ASF), which does not affect humans but can be catastrophic for pigs. This is the first time that an ASF outbreak has been reported in India.
Background
In September 2019, the outbreak of the disease swept through pig populations in China , which is the largest exporter and consumer of pork, leading to large scale cullings.
Details
As per the latest update issued by the UN Food and Agriculture Organisation (FAO), the current outbreak of ASF has affected China, Mongolia, Vietnam, Cambodia, Myanmar, the Philippines, Republic of Korea and Indonesia among others.

In China, the first ASF outbreak was confirmed in August 2018 and since then more than 1 million pigs have been culled in the country. In Vietnam, the ASF outbreak was confirmed in February 2019 and since then over 6 million pigs have been culled.

Officials believe ASF came into India through Tibet into Arunachal Pradesh and then into Assam, the state with the highest population of pigs in the country.

The Assam government decided to ban the slaughter and sale of pork awaiting test results of samples that were sent to the National Institute of High Security Animal Diseases (NIHSAD) in Bhopal. It was later confirmed that the samples were positive for ASF.

ASF is a severe viral disease that affects wild and domestic pigs typically resulting in an acute haemorrhagic fever. The disease has a case fatality rate (CFR) of about 100 percent.

Its routes of transmission include direct contact with an infected or wild pig (alive or dead), indirect contact through ingestion of contaminated material such as food waste, feed or garbage or through biological vectors such as ticks.

The disease is characterised by the sudden deaths of pigs. Other manifestations of the disease include high fever, depression, anorexia, loss of appetite, haemorrhages in the skin, vomiting and diarrhoea among others.

It is important that determination of ASF is made through laboratory testing and it is differentiated from Classical Swine Fever (CSF), whose signs may be similar to ASF, but is caused by a different virus for which a vaccine exists.