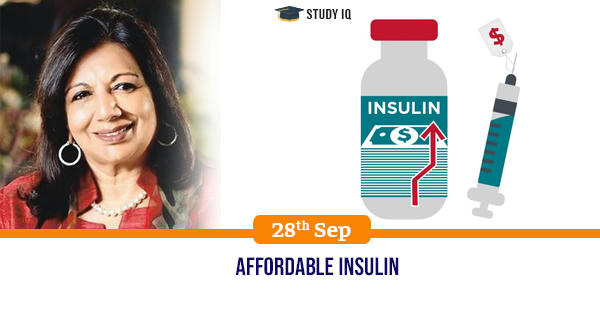 Affordable insulin
Date: 28 September 2019
Tags: Miscellaneous
Issue
Kiran Mazumdar-Shaw, philanthropist and founder of Biocon, said she would enable universal access to high quality insulin by making available recombinant human Insulin (rh-Insulin) at less than 10 U.S. cents /day in low and middle-income countries.
Background
Ms. Mazumdar-Shaw made the above personal commitment at a United Nations General Assembly (UNGA) meeting on innovation and universal health access, convened by UNAIDS Health Innovation Exchange.
Details
Insulin is a peptide hormone produced by beta cells of the pancreatic islets and is considered to be the main anabolic hormone of the body.

It regulates the metabolism of carbohydrates, fats and protein by promoting the absorption of carbohydrates, especially glucose from the blood into liver, fat and skeletal muscle cells.

The absorbed glucose is converted into either glycogen via glycogenesis or fats (triglycerides) via lipogenesis, or, in the case of the liver, into both.

Glucose production and secretion by the liver is strongly inhibited by high concentrations of insulin in the blood.
Abnormality in Insulin
If beta cells are destroyed by an autoimmune reaction, insulin can no longer be synthesized or be secreted into the blood.

This results in type 1 diabetes mellitus, which is characterized by abnormally high blood glucose concentrations, and generalized body wasting.

In type 2 diabetes mellitus the destruction of beta cells is less pronounced than in type 1 diabetes, and is not due to an autoimmune process. Instead there is an accumulation of amyloid in the pancreatic islets, which likely disrupts their anatomy and physiology.

Type 2 diabetes is characterized by high rates of glucagon secretion into the blood which are unaffected by, and unresponsive to the concentration of glucose in the blood.
Artificial Insulin synthesis
Biosynthetic human insulin (insulin human rDNA, INN) for clinical use is manufactured by recombinant DNA technology.

Biosynthetic human insulin has increased purity when compared with extractive animal insulin, enhanced purity reducing antibody formation.