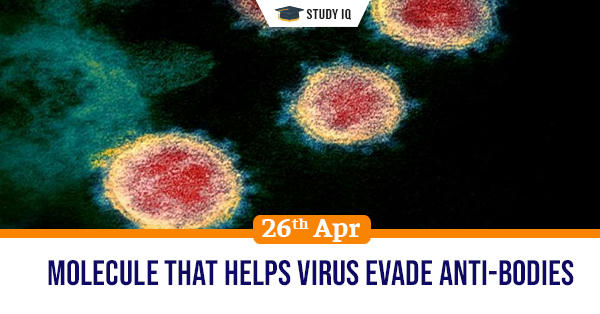 Molecule that helps virus evade anti-bodies
Date: 26 April 2021
Tags: Miscellaneous
Issue
A study has identified a certain natural molecule that prevents antibodies from attaching itself to SARS-CoV-2 virus.
Background
Antibodies usually neutralise virus by attaching themselves to them and destroying their genetic material to prevent them from multiplying.
Details
The discovery is a major step in understanding why certain individuals become seriously ill even if they have anti-bodies present in their bodies.

The natural molecules are biliverdin and bilirubin that can prevent anti-bodies from attaching to coronavirus spike protein.

However, the ability of the body to control the infection and handle antibody response is highly variable between individuals.

Researchers found out that biliverdin can prevent binding of antibodies to spike protein by as much as 30-50%.

This was undertaken after collecting blood sera and antibodies from individuals who were previously infected from SARS-CoV-2.

To understand interactions between antibodies and biliverdin, the team made use of cryo-Em and X-ray crystallography.

The biliverdin can attach to the spike of the virus and stabilise it. That prevents the spike from opening up and exposing its structure.

The SARS-CoV-2 virus infects lung and surrounding blood vessels leading to increase in immune cells.

Presence of immune cells gives rise to biliverdin and bilirubin in the surrounding tissues. These molecules then attach to the virus to neutralise antibodies.