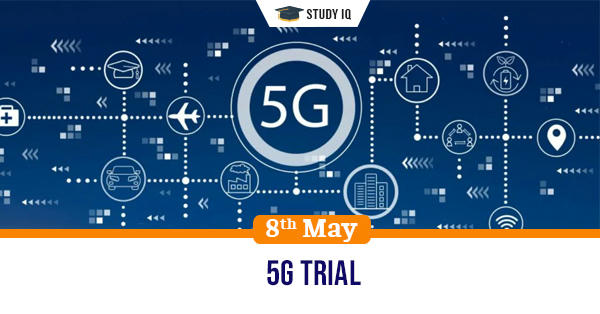 5G trial
Date: 08 May 2021
Tags: Miscellaneous
Issue
Telecom companies such as Reliance Jio, Bharti Airtel, Vodafone-Idea and MTNL have been given nod by the Department of Telecommunications to conduct trials for5G technology.
Background
The 5G technology roll-out has been running on priority so that idea of Digital India can be realised faster.
Details
The 5G is the latest among new evolution in mobile broad-bands. It works majorly in three bands viz the low, mid and high spectrum.

Currently only three private telecom companies have survived in Indian market due to low returns on investment. Along with them state-owned BSNL and MTNL are present, despite making losses.

The companies have no other option but to offer new features in form of 5G if they have to survive in the market.
Current problems in trials
The current issues that need to be sorted out include delays in approvals, high spectrum prices, inadequate availability of spectrum, and poor development of cable fiberisation among others.
Trials
The trials will be conducted for 6 months including two months for setting up equipments and procurement. Companies will test their network in both rural and urban areas.
Spectrum bands
The low-band spectrum has a maximum speed capped at 100mbps. It will be suitable for commercial mobile users but not for technical industry requiring high speed.

The mid-band provides higher speed but its coverage is lower and the penetration power also is weaker. This can be used for industries and specialised sections.

The high-band has the highest speed among all but it suffers in terms of coverage and penetration powers. It has potential speed of 20 Gbps at maximum.