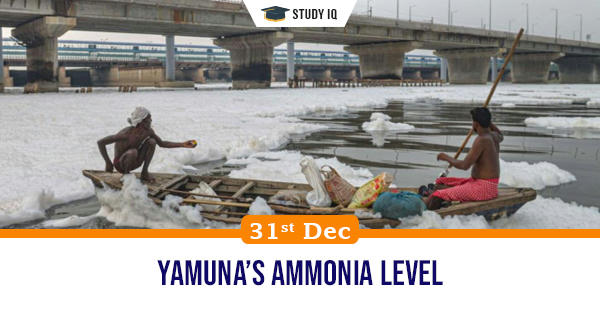 Yamuna's ammonia level
Date: 31 December 2020
Tags: Miscellaneous
Issue
The increasing pollution in the Yamuna is being considered as the source for frequent disruption to Delhi's water supply.
Background
The Delhi government has blamed Haryana for releasing harmful affluent into the river even after repeated requests.
Details
Ammonia is used as an industrial chemical in the production of fertilisers, plastics, dyes, and other products. It also occurs naturally in the environment from the breakdown of organic waste matter, including sewage.

When its concentration rises beyond the treatment capacity, water production at three out of 9 water treatment plants have to be stopped or reduced, which impacts supply to parts of the city.
Pollution source
The Yamuna flows into Delhi from Haryana and the state has industrial units in Sonipat, which is close to Delhi's northern border.

A specific area where both Haryana and Delhi agree is the mixing of two drains carrying drinking water and sewage or industrial waste.
Solution
Officials in Haryana and also within the DJB state that the Board should increase its capacity to treat ammonia levels in the water.

The laying of a conduit pipeline to separate freshwater and sewage drains would also reduce pollution of potable water, however, it is not clear when would this be completed.

The recommendation is based on the need to revive the Yamuna by releasing more fresh water into it, which would help maintain a certain environmental flow for the river to sustain its functions throughout the year.