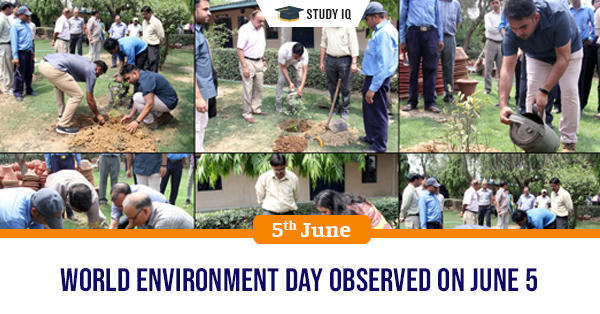 World Environment Day observed on June 5
Date: 05 June 2019
Tags: Miscellaneous
The World Environment Day (WED) is observed every year across the world on 5 June to spread worldwide awareness and action to protect our environment. It is the biggest annual event for positive environmental action. China was host country for WED 2019. Its theme was "Air Pollution". It was aimed at highlighting importance of air quality that we breathe.
WED 2019: It urged governments, industry, communities and individuals to come together to explore renewable energy and green technologies, and improve air quality in cities and regions across the world.
Air Pollution facts:
92

%

of people worldwide do not breathe clean air

Air pollution costs global economy around $5 trillion every year in welfare costs

Ground-level ozone pollution will reduce staple crop yields by 26

%

by 2030
#SelfiewithSapling campaign
On the occasion of WED 2019, Union Environment Ministry had launched #selfiewithsapling campaign. It urged all to join and plant sapling and post selfie with the sapling on social media. The campaign was aimed at stressing importance of 'Jan Bhagidari' as integral towards tackling environmental issues and environment protection has to be a people's movement.
Background
The World Environment Day (WED) was instituted by United Nations General Assembly (UNGA) to encourage worldwide awareness and action to protect our environment.

Why June 5?

This day marks first day of United Nations Conference on the Human Environment which was held in Stockholm, Sweden from June 5–16 in 1972.
1st World Environment Day: It

was observed in 1973 and since then it is being held every year with different themes.

Purpose of this day:

It serves as a flagship campaign for raising awareness on emerging environmental issues from marine pollution, human overpopulation, and global warming, to sustainable consumption and wildlife crime.

Host Country:

Every WED has different host country, where the official celebrations take place.

WED 2018:

India was host country and central theme was is 'Plastic Pollution".