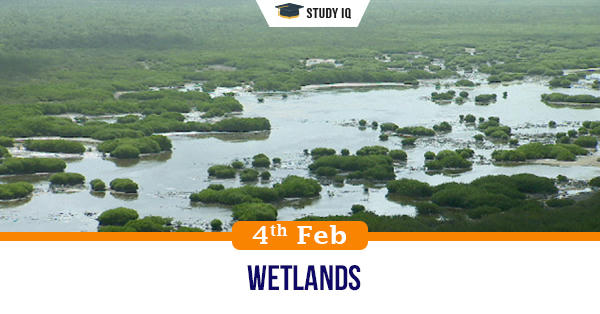 Wetlands
Date: 04 February 2021
Tags: Miscellaneous
Issue
The World Wetlands day was celebrated on February 2 across the world to highlight importance of wetlands.
Details
A wetland is a distinct ecosystem that is flooded by water, either permanently or seasonally, where oxygen-free processes prevail.

The primary factor that distinguishes wetlands from other land forms or water bodies is the characteristic vegetation of aquatic plants, adapted to the unique hydric soil.

The main wetland types are swamp, marsh, bog, and fen; sub-types include mangrove forest, carr, pocosin, floodplains, mire, vernal pool, sink, and many others.
Functions of wetlands
Wetlands play a number of functions, including water purification, water storage, processing of carbon and other nutrients, stabilization of shorelines, and support of plants and animals.

Wetlands are also considered the most biologically diverse of all ecosystems, serving as home to a wide range of plant and animal life.

Constructed wetlands are used to treat municipal and industrial wastewater as well as stormwater runoff. They may also play a role in water-sensitive urban design.

Some types of wetlands can serve as fire breaks that help slow the spread of minor wildfires. Larger wetland systems can influence local precipitation patterns.
Ramsar convention
The Convention on Wetlands is an intergovernmental treaty that provides the framework for national action and international cooperation for the conservation of global wetlands.